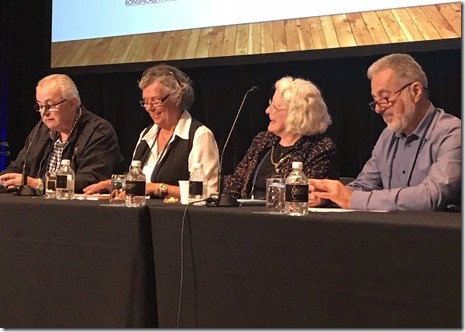 ACcORD Member, Danijela Hlis, presents at Dementia Forum in Sydney
A voice for culturally diverse and Indigenous Australian people with dementia
ACcORD Executive Committee Member and Consumer representative, Danijela Hlis, recently attended the 2018 Australian Dementia Forum organised by the NHMRC National Institute for Dementia Research (NNIDR), held at the Sydney Masonic Centre on the 4th and 5th of June.
Danijela was able to present a poster in which she outlined her collaboration with various academic research groups and partnerships including her association with ACcORD. The main message of her poster was for better inclusion of people of culturally and linguistic diverse (CALD) backgrounds living with dementia in all dementia-related research. In addition, Danijela participated in a panel discussion with 3 other consumer representatives, including ACcORD consumer representative Elaine Todd, about their experiences as consumers involvement in research.
Danijela's passion for advocating on behalf of people with dementia from CALD and Aboriginal and Torres Strait Islander backgrounds is evident and an important link in ensuring dementia research and policy recognise and address these often-neglected individuals in the pursuit of improved dementia care services.
To read more about some of the presentations at this conference via the Cognitive Decline Partnership Centre website, click here.
Danijela (right) pictured with Dr Jane Thompson of the NNIDR